Beauty treatment


at J'adore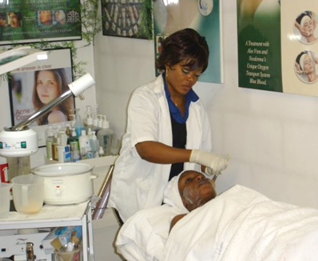 "I have over 15 years experience as a senior beauty therapist. I have numerous qualificatiosn including those in popular areas such as aromatherapy, advanced electrolysis, reflexology and massage. I also have extensive knowledge of appropriate treatments and products to share with you."
The beauty treatments available include:
Danne method of natural pharmacology imitating nature for natural results!
We use the Danne paramedical skin revision system, "When results are required!"
Danne products Remove, Rebuild, Protect and Maintain!
All Danne products are available to purchase to compliment your treatment.
What is best for your skin?
Facial, make up, waxing
Full, mini-body massage
Ear-Piercing, false eyelashes
Temporary Tattoo & Body Art
Neoderma products - help you to get a new skin in 6 weeks!
Enjoy a rebalancing facial treatment with Neoderma's herbal rebalancing cocktail which cleanses, purifies and rebalances oily skin.
Bio-peeling treatment is a unique, safe effective way to treat acne, oily skin, scars, skin regeneration, pigmentation and age spots.
Treatment for men available using Dermalogica skin care products and includes facial and waxing.